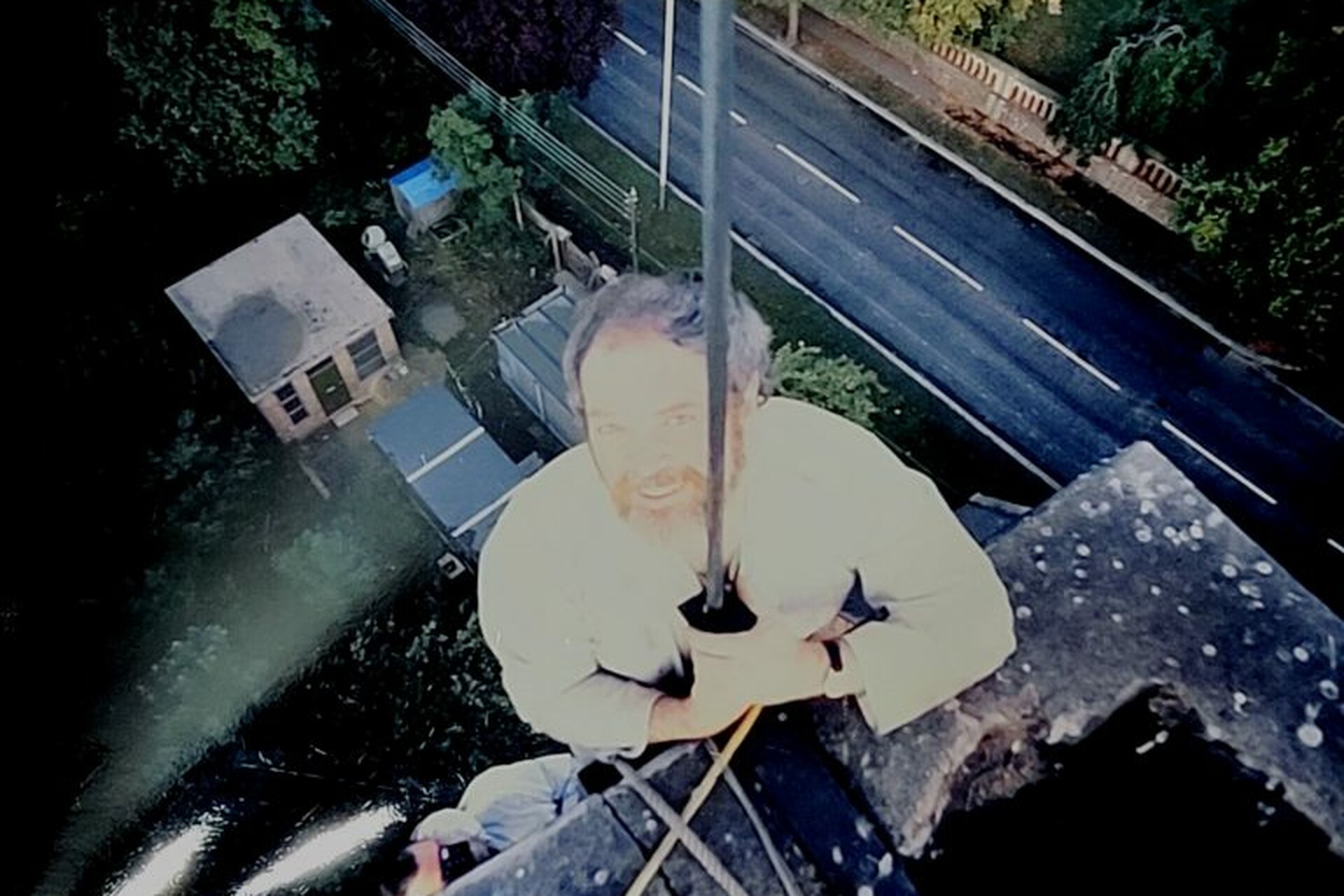 Jim was born in Nottingham and lived in Mansfield where he studied at Brunt's Grammar School. He was academically bright and became Vice-Head Boy in the Sixth Form. He joined the School Photographic Society where his life-long love of photography developed. On leaving school Jim went to Manchester University where he gained a degree in Civil Engineering. In 1970 he moved to Teesside where he joined Tees Valley and Cleveland Water board, later to become Northumbrian Water, as a Graduate Engineer. He remained within Northumbrian Water in various roles including responsibility for all the dams in the North East. One of his duties was the inspection of pipelines and tunnels leading from one reservoir to another and this was best achieved with the aid of a bicycle. It aroused so much interest that Tyne Tees Television did a News item on him as he pedalled through the Tyne-Tees link that carried water from Kielder to Teesside.
Later Jim's career assumed a more international aspect where he travelled to Argentina, Mexico, Guyana, Norway, Italy, Ireland, South America, and India on a variety of projects. Probably his favourite country was India. His work continued there after retirement from Northumbrian Water on his 60th birthday in 2008, working on behalf of Water Aid on a series of projects and mentoring young engineers, becoming quite a celebrity in the process.
Following the public steaming of the beam engine as part of the 150th Anniversary of the Stockton and Darlington Railway in 1975, several attempts were made to preserve the Tees Cottage site which had been made redundant as the Broken Scar treatment plant expanded. All of these attempts failed until a few years later when a group of enthusiasts including Jim and some of his colleagues successfully secured the site and prepared it for its first public steaming in 1979. From these humble beginnings Tees Cottage Pumping Station grew into a successful museum with Jim an important driving force as engineer, trainer, project manager and at one point, Chairman.
The beam engine was his pride and joy and he taught several volunteers, including myself, how to operate it and deal with its many foibles. As well as the beam engine, Jim enjoyed working in the smithy and on the gas engine where he played a significant part in 1984 getting it running after not turning a wheel since the mid-1950s.
Jim's interest in photography ranged from plate cameras right through to digital work and he amassed a collection of around seventy cameras of all kinds. He would often bring a large plate camera to the pumping station and using time exposure, would create some stunning pictures.
In addition to photography, Jim enjoyed walking especially in the North York Moors. He loved everything steam and would often visit the North York Moors Railway and take photographs. In addition to walking, Jim was interested in old machinery, heritage railways, dams and water supply. He liked reading poetry and was able to choose an appropriate verse for any occasion. Last but by no means least was his love of vintage cars, especially those made by Jowett of which he owned two. He often brought them to Tees Cottage on our open days.
Sadly Jim suffered a stroke last November leaving him without use of his left arm and leg but his mind remained as sharp as ever. Unfortunately he contracted an infection and was taken back into hospital where he passed away peacefully on the 25th February. He leaves his wife Hazel whom he met at school and children Ian, Steven, John, Kevin, Helen, Brian and Yvonne and seventeen grandchildren.
Jim was much loved and respected at Tees Cottage. He was friendly, approachable, calm, softly-spoken, kind, patient, tolerant and knowledgeable with a mischievous sense of humour. We owe him a large debt of gratitude for the knowledge of the beam and gas engines and water treatment we have gained. His method of teaching was legendary. He would counter a question with a series of further questions, the answers to which would give you the answer to your initial query. It could sometimes be a laborious process but it ensured that not only did you find the answer – you also understood it.
Thank you, Jim for your friendship, kindness, tolerance and comradeship. We will miss you.