Refurbishment of Lister 'D' Petrol Engine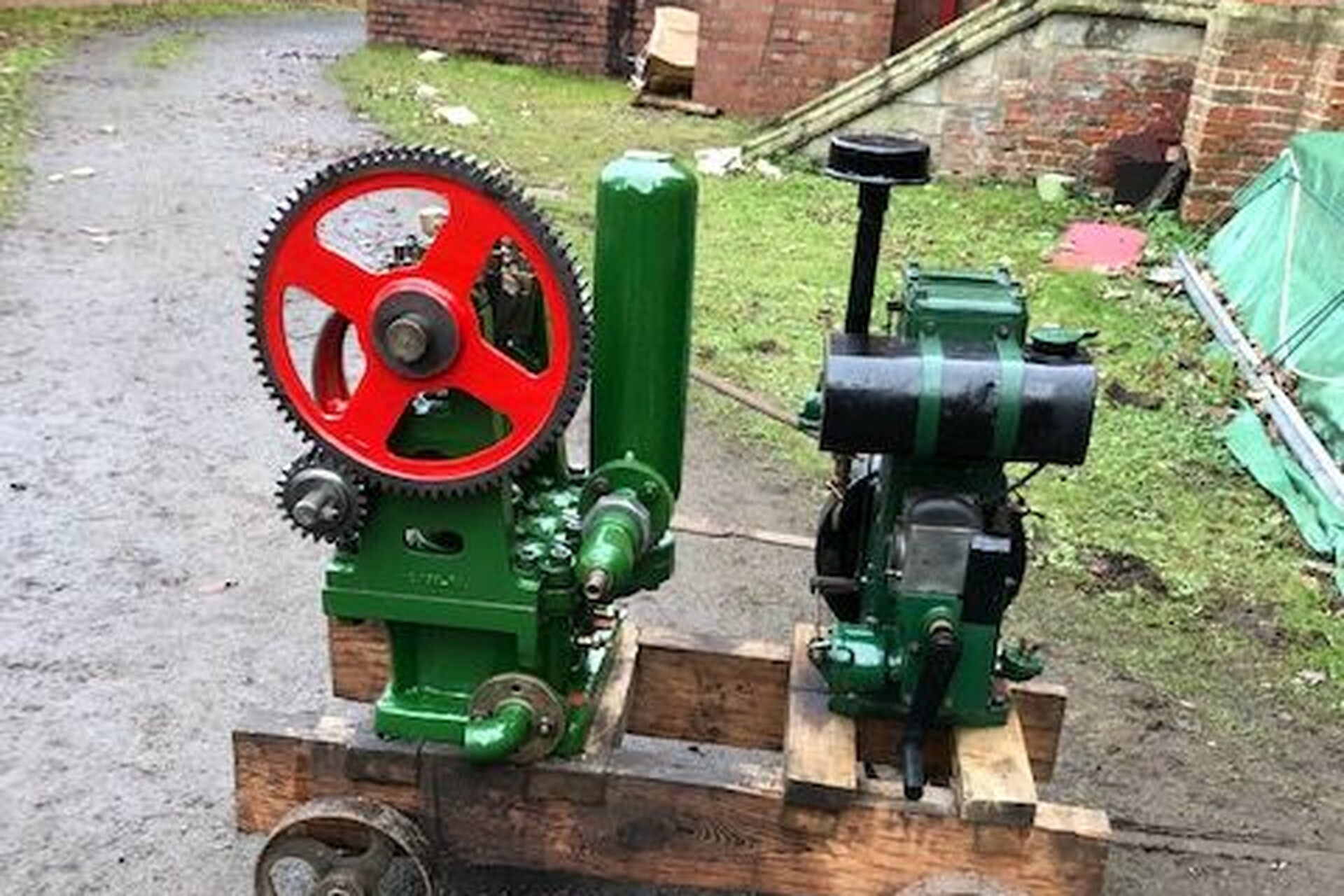 When it was decided to restore the engine and pump the Lister ''D'' petrol engine was a bit scruffy but in fairly good condition. The pump, which is a three cylinder ram type pump of unknown manufacture, was in a sad state with a chunk missing from the centre cylinder wall, which will have to be looked at some time in the future. The wooden frame, which the whole oily mess sat on, was made from rough unfinished timber, strong but not pretty.
First thing to do was to see if it all worked. The engine needed a new cylinder head gasket so a new one was bought along with a new spark plug, high tension lead, and points to revive the electrical system. Once these parts were fitted the engine worked well and drove the pump easily, and after a bit of flushing out and fiddling about the pump worked too, sort of. It was decided that if the pump works lets take it apart and make it work better, and a short time later there it was in pieces. There's no stopping enthusiastic volunteers on a mission.
All parts were pressure cleaned and a lot of rust and lumpy bits were scraped out of the pump body. The parts were were given a coat of red oxide primer and finished with two coats of Brunswick Green which looks just right. The spinning, whirly, bits were painted a bright red to highlight them, and the pump was assembled. The result was a huge improvement on the original sorry mess.
Now that the mechanical bits were finished, attention turned to to a new frame to compliment the engine and pump. It turned out that Dave Smart had, in his garage, a large red pine beam. Perfect. It was sawn in half to make the frame rails, planed with a planing machine, sanded smooth and assembled with four by four crossmembers. The finished frame was given five coats of marine varnish which brought out the red colour of the wood beautifully.

Wheels and axles from the old frame were cleaned and painted a gloss black and a simple steering mechanism added to the front axle. A draw bar and eyelet was added to the front axle to hitch onto the dump truck for easier moving around.

The engine and pump and a water tank were then mounted on the frame and plumbing added to make a re-circulating system for the water.
The finished setup works well and and it makes the time and effort all worthwhile. We are planning to demonstrate the pump at future Open Days.
We are fortunate to have such a diversity of skills in our volunteers, woodworking, plumbing, welding, machining skills, all were needed to make this project look and work well.